Design, Build and Integration
---
Susquehanna Bank – Campus Training Facilities
Susquehanna Bank, a financial services holding company, sought a campus wide audio-visual solution for new training facilities in South Central Pennsylvania. Susquehanna consulted with System Source to design and integrate a distributed, multi-room audio video system including interactive projectors, a new auditorium, training classrooms, video conferencing and digital signage.
Working with the facilities team, architects, designers and contractors, System Source designed, installed and commissioned the 20 room campus to include:
6 LCD displays
18 LCD projectors
18 motorized projection screens
2 interactive smart projectors
8 microphones
2 mobile video teleconferencing carts
Distributed media system
A Crestron Digital Media processing system controls a 16 room distributed audio-visual system with localized presentation control and system override capability to display a unified message across all rooms.
The campus utilizes the following technologies:
Digital signage (scheduling & advertising)
Crestron digital media, distributed audio video switching
LifeSize video teleconferencing
Dual display auditorium projectors w/ voice lift reinforcement
Split / combine audio video in large modular rooms
Overhead audio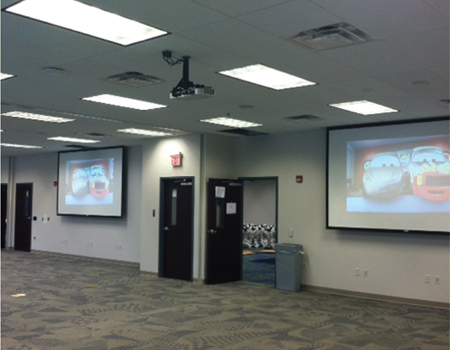 Scott MacBeth
V.P., Director of Learning and Performance
Susquehanna Bancshares, Inc.
717-285-6480
Richard Acuri
Facilities, Building, Project and Leasing Manager
717-755-3451 x36137